04 Nov

Change Your Clocks, Change Your Batteries!

The time change during the night of November 6th and 7th, 2021 is the perfect time to check your smoke detectors. Here are a few tips :
Replace the batteries.
Ensure the detector is less than 10 years old. All types of smoke detectors have a ten-year life span.
Press the test button to make sure the detector and batteries are functional.
Installation and maintenance of your smoke alarms:
Where to install smoke alarms: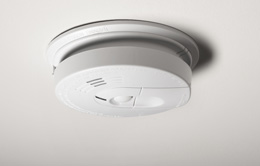 Install one smoke alarm per floor, including in the basement.
Install one in the hallway near the bedrooms.
Install one in each bedroom if you sleep with the door closed.
Install one near a staircase.
Make sure all occupants hear the smoke alarm when sleeping. If not, install a smoke alarm in the room of those who cannot hear it.
If each floor is more than 10 meters (35 feet) in length, install 2 smoke alarms per floor, 1 at each end.
Never remove the battery from an alarm that goes off too often, it is a sign that the alarm is too close to the kitchen or to the bathroom. Move it slightly away from these two rooms.
Install a smoke alarm at the cottage.
How to install smoke alarms
Install the unit on the ceiling, at least 10 cm (4 in.) from the wall, or on a wall, 10 to 30 cm (4 to 12 in.) from the ceiling.
Install the alarm at a distance of 100 cm (40 in.) from a fan, air conditioner, outlet, or return air vent. The air movement caused by these devices can repel smoke and interfere with the operation of the alarm.
Make sure there is no obstruction in the potential path of the smoke to the alarm. For example, install the alarm on the lowest part of a beam and not between the beams where the smoke might not go.
The smoke alarm connected to a central station allows an even faster intervention of firefighters. Make sure you are well connected, especially if you make changes/updates to your telephone or electrical network (high-speed Internet, IP phone).
Have a master electrician connect all the smoke alarms in the house. So when one rings, they all ring, no matter where the fire is. You will gain precious minutes to evacuate.
Maintenance
The battery
Replace the battery when the buzzer sounds an intermittent tone. Use the battery type recommended by the manufacturer.
Never use a rechargeable battery unless the manufacturer recommends it.
Replace the battery when you move into a new house or apartment.
Remember to use a long-lasting battery such as a lithium battery.
The smoke alarm
Lightly vacuum the outside and the inside of the battery case using a soft brush, at least once a year. Clean the exterior casing of the horn assembly. This prevents dust from accumulating on the smoke sensors.
Never paint the smoke alarm.
For more information: Smoke Alarms at Home (PDF)